AIRPORT GROUND TRANSFER BOOKING ENGINE
Integrate Our "Transfer Booking Engine" To Your Existing Website
MOBILE RESPONSIVE DESIGN
BOOK PRIVATE, SEAT-IN-COACH & EXCLUSIVE
VEHICLE MASTER INTEGRATION
ACCEPT PAYMENTS
We are flexible, plus understand our Transport Operator requirements, and willing to offer ala-carte product solutions to help them increase their revenues, by offering the Airport & Ground Transfer Booking Engine to be integrated with your existing website.
AIRPORT & GROUND TRANSFER BOOKING ENGINE
Our Mobile-Responsive "Transfer Booking Engine" integrated to your existing website will be accessible on all devices to accept direct bookings with payment gateway integrated.
BOOK PRIVATE, SEAT-IN-COACH & EXCLUSIVE
The "Transfer Booking Engine" is integrated with Google MAP API for customers to choose right Pick-Up and Drop-Off Addresses offering Private, Seat-In-Coach and Exclusive services defined in your Vehicle Master.
VEHICLE MASTER INTEGRATION
Maintain your ACTIVE VEHICLES from the pre-defined Vehicle Master list. Set your KM-BASED, FIXED PRICE and SURCHARGES, which will be shown to your online customers to review and pay during the booking process.
By default your PAYPAL payment gateway is integrated with the "Transfer Booking Engine" to receive your payments.
ACCEPT AIRPORT & GROUND TRANSFER BOOKINGS FROM YOUR WEBSITE
Showcase Your Brand, Products & Services Online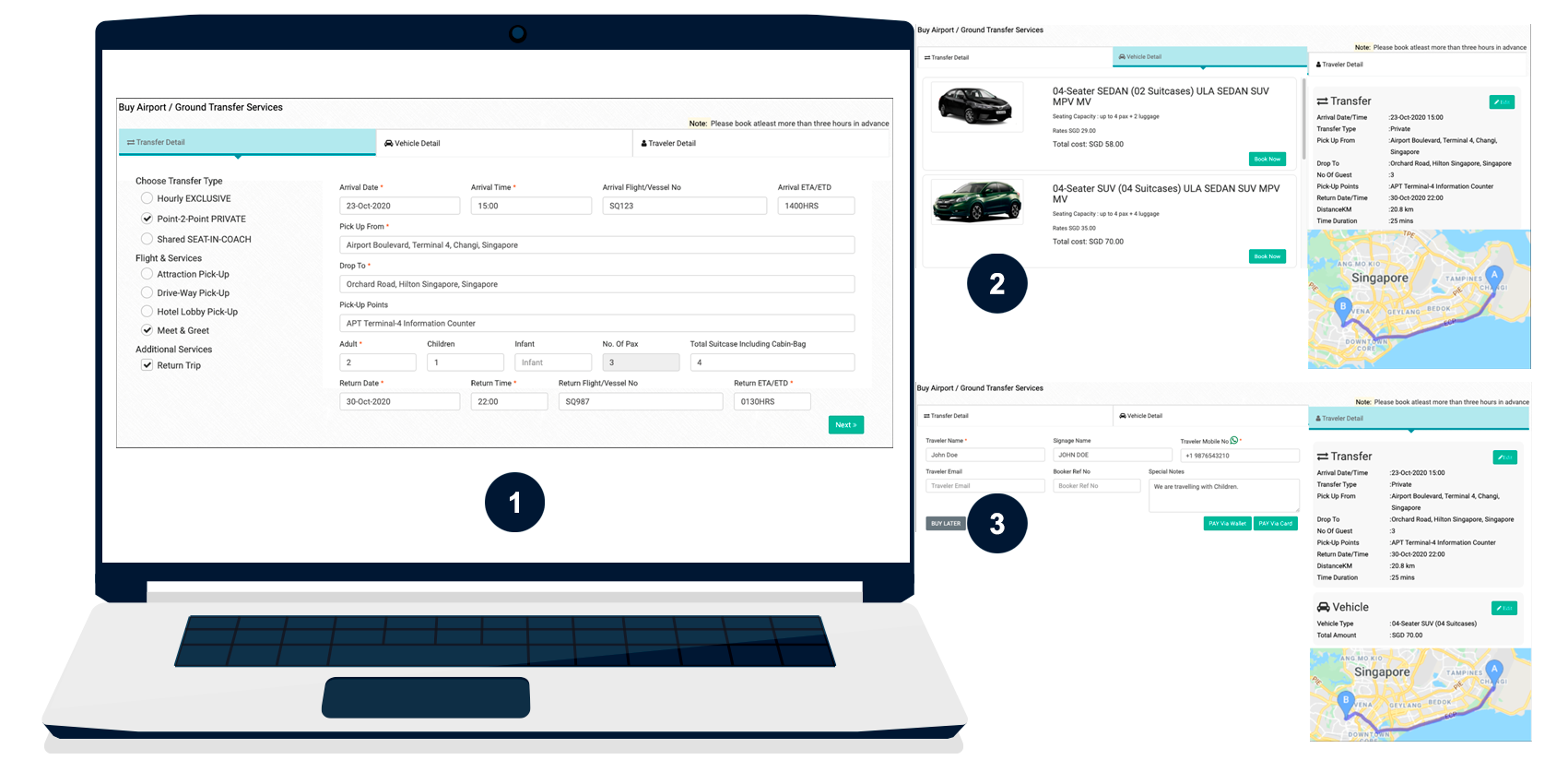 Let's Integrate "Transfer Booking Engine" to your Mobile Responsive Website!
We offer "Transfer Booking Engine" product as a stand-alone solution with default PAYPAL payment gateway integrated to your existing Website to help increase revenue and build your brand directly with your existing and new customers.
Step 1: Enter Transfer Details
Step 2: Select Vehicle Type
Step 3: Proceed with Payment